HOPE IN THE FACE OF REJECTION
Truly I tell you," Jesus replied, "no one who has left home or brothers or sisters or mother or father or children or fields for me and the gospel will fail to receive a hundred times as much in this present age: homes, brothers, sisters, mothers, children and fields—along with persecutions—and in the age to come eternal life. Mark 10:29-30
A young lady from India who received Standing Strong Through the Storm (SSTS) training shares her poignant story:
Though I long to see my family, I cannot go home. I haven't been home in three years, ever since my family poured hot water on me to show their hostility. They were extremely upset when I accepted Christ as my Saviour as a teenager. I stopped worshipping idols and other gods that my family worshipped. I began to pray and read the Bible every day. My family, who kept food from me, even poured hot meals on me. They tore Bibles from my hand and burned them, six of them.
I was beaten severely for attending church services. One time so badly that I was half dead. While I was still on my sick bed I heard the voice of God saying, "Leave your family whom you love and follow me." It was a very difficult decision for me, but I agreed to do His word. So I told my father that I would be leaving for Bible College to study and learn about Jesus. On hearing my words he was furious and said that if I was to do my own will then I could leave for good. He demanded money that he had spent for my upbringing. It broke my heart.
Learning of the terrible condition I was in, an evangelist reached out to me with help and brought me to a Bible College supported by Open Doors. After a year I went home expecting my family to accept me. But they remained unchanged.
Two years later, my father attended my Bible College graduation in secret, coming in late to the back and leaving early. He did not want to speak to me. My family has only given me pain and sorrow and I think about it and weep.
But I believe in God's promise, "Let your heart not be troubled, believe in God and also in me, there are many rooms in my father's house…I will come back and take you with me" (John 14: 1-3). So one day I will be with Him in His heavenly home where there will be no more sorrow, crying or pain.
RESPONSE: Today I will be encouraged that no matter what happens; following Jesus gives me hope.
PRAYER: Pray for many believers, like the young lady above, who endure the pain of rejection.
"But the wisdom that comes from heaven is first of all pure; then peace-loving, considerate, submissive, full of mercy and good fruit, impartial and sincere." James 3:17 (NIV)
If someone says something or does something that hurts me, what is the godly response? Is it to pretend like everything is fine so I can keep the peace? Or is it to confront the person to prove how wrong they are?
I'm learning that it's actually neither.
If ever I catch myself pretending or proving, I know I'm processing my hurt the wrong way.
The godly way is approaching this situation with soul integrity — responding in a way that's honest but also peacemaking. James 3:17 says, "But the wisdom that comes from heaven is first of all pure [honest]; then peace-loving …" Yes, I want this kind of wisdom — this soul integrity. I want to be honest and peacemaking at the same time. But how?
Just realizing this can help me make progress. After all, hurt feelings don't often want to cooperate with holy instructions.
Real Honesty.
Not all honest expressions of my feelings can be categorized as "healthy." You see, my honest feelings may not be truthful assessments of the situation. I can be honest with how I feel and still exaggerate or misinterpret what is factually true. I can feel justified in being blatant about my feelings and not holding anything back by thinking, "I'm just being true to myself." But if I'm not being true to my most healed self, then I could compound everyone's hurt.
Honesty that isn't surrendered to truth isn't honesty at all. It could just be emotional spewing. That's why we need peacemaking honesty — honesty reined in by the Holy Spirit — if we're going to have authentic soul integrity.
So, if I want real honesty, I have to ask the Holy Spirit to show me real truth. I need to see things from the other person's perspective. I need to ask questions with the desire to better understand instead of throwing out statements of accusation. Ultimately, my goal should be to add peacemaking to my honesty.
Real Peacemaking.
It must grieve God to see plastic versions of peacemaking that aren't reined in by honesty. That's what we do when we stuff our emotions and pretend everything is okay. The upside to stuffing is that we have the semblance of peacemakers. But when we do this at the expense of honesty, we harbor a corrosive bitterness that will eventually emerge. Either it will erode our health and later present itself in a host of emotional and physical anxiety-induced illnesses, or it will accumulate over time and surprise everyone when the peacemaker eventually erupts. Saying "I'm fine" to keep the peace when we're really not fine builds walls and shuts down intimacy.
Sometimes, dishonesty comes in the form of saying things that aren't true. But it's also dishonest when we pretend to be okay but secretly simmer with resentment.
It may seem godly in the moment, but it's false godliness. Truth and godliness always walk hand-in-hand. The minute we divorce one from the other, we stray from soul integrity and give a foothold to the instability that inevitably leads to coming unglued.
Yes, we're after soul integrity — honesty that is also peacemaking that leads to godliness. This soul integrity brings balance to unglued reactions. It makes us true peacemakers — people who aren't proving or pretending but rather, honestly demonstrating what they experience in a godly manner.
None of this is easy. None of this is tidy. But I'm convinced better reactions can lead to better relationships.
Dear Lord, it is only through You that I'm able to bring all my exploding and stuffing under Your authority and Truth. Thank You for Your Holy Spirit who gives me wisdom and helps me have better reactions. Help me lean on You. In Jesus' Name, Amen.
TRUTH FOR TODAY: 2 Corinthians 13:11, "Finally, brothers, rejoice. Aim for restoration, comfort one another, agree with one another, live in peace; and the God of love and peace will be with you." (ESV)
James 3:18, "Peacemakers who sow in peace reap a harvest of righteousness." (NIV)
RELATED RESOURCES: Do you feel stuck in a cycle of unresolved pain, playing offenses over and over in your mind? Start finding life-giving freedom as you let go of bound-up resentment and any resistance to forgiving those who have hurt you with the help of Lysa TerKeurst's new book, Forgiving What You Can't Forget. Preorder your copy here today, and start reading the first 3 chapters immediately!
CONNECT: Keep up with the latest from Lysa TerKeurst when you visit her website.
REFLECT AND RESPOND: Is the Lord moving you toward real honesty, real peacemaking or a combination today? Thinking about your current relationships, what are some practical applications you can make as you pursue soul integrity? Join in the conversation here today.
© 2020 by Lysa TerKeurst. All rights reserved.Proverbs 31 Ministries
630 Team Rd., Suite 100
Matthews, NC 28105
www.Proverbs31.org
Promise #316
Promise #316:
Taste and you will see that I am a good God.
Psalm 34:8 (WEB)
Oh taste and see that Yahweh is good.
Blessed is the man who takes refuge in him.
When I think of today's promise, I think of the difference between looking at a shiny red apple and tasting it. No matter how tasty the apple looks on the outside, the only way that I will truly experience its goodness is to take a big bite out of it!
It is when I sink my teeth into it, that I will be able to taste and see that it is really delicious. Looking at an apple will never sustain us. We could be surrounded by an entire orchard of apples and yet die of starvation if we don't eat the apples.
I believe that God is extending an invitation for us to not only behold His goodness from afar, but to come close and taste and see that He really is good. In some Christian circles, looking for an experience with God might be seen as undermining the importance of believing without seeing. I am not suggesting that we base our entire Christian walk on experience, but I would suggest that experience is part of any relationship that we have.
While faith (Hebrews 11:6) is still the foundation on which we relate to God, I believe that He wants us to experience Him in every facet of our being. I pray that today, each and every one of us will taste of God's goodness in a very tangible way that will give us a greater insight into our Papa's heart.
TRUSTING GOD DAY BY DAY
Love Frees Us To Forgive

"Above all things have intense and unfailing love for one another, for love covers a multitude of sins [forgives and disregards the offenses of others]." — 1 Peter 4:8

The apostle Peter said love covers a multitude of sins. Love doesn't just cover one mistake, it covers a multitude. God's love for us not only covered our sins, it actually paid the price to completely remove them. Love is a powerful cleansing agent. I want you to notice that Peter said we should love "above all things".

When Peter asked Jesus how many times he would be expected to forgive a brother for the same offense, Jesus told him to keep on doing it as many times as it took (see Matt.18:21-22). Peter suggested seven times, and I have often wondered if he was already at six and thought he had only one more effort in him.

We must understand that a lot of forgiveness is required of us. In fact, it will probably be part of our daily experience. Some of the things we need to forgive may be minor and fairly easy, but occasionally that big thing comes along and we start wondering if we can ever get over it. Just remember, God never tells us to do anything unless He gives us the ability to do it. We can forgive anyone for anything if we let God's love flow through us.

The Bible tells the story of a man named Joseph, who was sold into slavery by his brothers. When Joseph's brothers discovered years later that he was alive and in charge of the food supply they desperately relied on, they were afraid. They remembered how badly they had treated Joseph, and so did he, but he chose not to reveal it to anyone else. He spoke with them privately and simply told them he was not God — and vengeance belonged to God, not to him. He freely forgave them, urged them not to be afraid, and proceeded to provide for them and their families. No wonder Joseph was a powerful leader who found favor everywhere he went. He knew the power of love and the importance of total forgiveness!

Trust In Him — The Bible tells us to love, and in order to do so we must forgive a multitude of sins. Trust God to give you the ability to forgive all things, and thank Him for forgiving you.
Flourishing in Community
by: Dorina Lazo Gilmore
But blessed is the one who trusts in the Lord, whose confidence is in him. They will be like a tree planted by the water that sends out its roots by the stream. It does not fear when heat comes; its leaves are always green. It has no worries in a year of drought and never fails to bear fruit. (Jeremiah 17:7–8 CSB)
She hung back in the sanctuary until most of the women cleared out from the event. She waved me over and asked if we could talk.
"I'm looking for someone to mentor me," she said with dark eyes shining. "I know you are really busy, but would you consider it?"
I had just finished emceeing a two-day women's gathering with the theme of discipleship. I paused at first because I didn't feel "old enough" to be her mentor. What wisdom did I have to offer? The more we chatted, the more I realized she really wanted someone to run alongside her in this race called life. She was a mother, a leader, a woman of color who was longing for accountability and deeper friendship.
That courageous question changed the course of both our lives. Although Yazmin and I are from different cultures and have different upbringings, different personalities, and different ministries, God brought us together to sharpen each other. Our differences are our strength. We've done some deep heart work together—sharing vulnerably, confessing our sins, praying together, and encouraging each other, especially on the hardest part of the trail.
We have learned the power of presence. Although I am ten years older, we journey together shoulder-to-shoulder. We don't waste time comparing ourselves to each other. We think of ways to collaborate and spur each other on to good choices. Our friendship is marked by mutual edification.
The prophet Jeremiah talks about how those who trust in the Lord are like trees planted together near the water. He paints a picture of these trees with leaves that stay green. They do not fear when the heat comes. They are not anxious when the water is low. They have confidence in God's provision. They continue to produce fruit.
Friend, we are designed to flourish in community. God brings beauty from our brokenness when we share our stories and bear one another's burdens. Sometimes it's awkward and uncomfortable. Sometimes it's messy. But God meets us there. He does not want us to run through this life in isolation, where the enemy can speak lies and distract us. God wants all of us to experience His abundance by flourishing together.
Yazmin and I set our eyes on the finish line together. Finishing well and leading our people to God's glory is the goal. Some days we run; other days we kneel.
Prayer:
Lord, I want to experience Your abundance within my own community. My heart is open, and so are my hands. Lead me to a place with people who are ready to run together, knowing that Your glory is the goal. Amen.
This is an excerpt from Take Heart: 100 Devotions to Seeing God When Life's Not Okay by (in)courage – a devotional book now available on DaySpring.com. Learn more about this book, or shop other books & devotionals from DaySpring.

Gratitude Changes Everything – Thanksgiving Devotional

Gratitude Changes Everything
Sharon Jaynes
Today's Truth
"Give thanks in all circumstances" (1 Thessalonians 5:18 NIV).
Friend to Friend
Thanksgiving is just around the corner, and so I've been thinking about gratitude a lot lately. What is it? When should we show it? What does God say about it?
Paul wrote the Thessalonians, "Give thanks in all circumstances" (1 Thessalonians 5:18). Most read that verse and think it rather nice. So we slap a sloppy coat of thanksgiving on life and go about our day. In reality, most of us are thankful for very little.
Notice the Bible doesn't command us to feel thankful in all circumstances. Instead it commands us to "give thanks in all circumstances." When I begin to praise God in a difficult situation, even if I don't feel like it, many times the scales fall from my eyes and I begin to see glimpses of His glory sprinkled on the black backdrop of the situation like diamonds on black velvet.
Sometimes I don't see glory in tragedy, but I still can praise God because I know He is there.
Gratitude changes the lens through which we see the circumstances in our little slice of time. Thanksgiving changes our perspective despite broken dreams, broken relationships, tumultuous circumstances, and unfulfilled longings.
As you praise God for who He is and thank Him for what He's done, your perspective of Him grows larger and your problems grow smaller. As a result, you will experience a deeper sense of intimacy with God as the emotional gap between what you know to be true and how you feel at the moment closes.
On many occasions in the Psalms, David complained about his circumstances (Psalms 42; 57; 62). But more often than not, about midway through David's laments, he begins praising God for who He is and thanking God for what He's done. And you know what happens? All of a sudden David starts feeling better! Life isn't so bad after all! His problems grow smaller as his perspective of God grows larger, and he begins to see God's glory shining through the situation.
Why is that? In the writing of one little Psalm, David shifted from depression to rejoicing. He didn't wait until God changed his situation, solved his problem, or made him feel better before he began thanking Him.
Oh friend, when we stop complaining and grumbling and begin speaking God's love language of gratitude, our perspective will change as well. We will begin seeing moments of sudden glory through the lens of praise and thanksgiving—glory moments that were there all along, but hidden from the grumbling eye.
Let's Pray
Dear Lord, I praise Your Name. I exalt Your Name forever. Even though I may not understand what is going on in my life, I trust that You are good and Your plans are good.
In Jesus' Name,
Amen.
Now It's Your Turn
Today, read Psalms 145,146, and 147. Take note of what the psalmist praised God for.
Make a list of 10 things you are thankful for and share them.
Seeking God?
GirlfriendsInGod.com

Pastors and their Moral Failures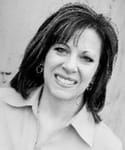 Crosswalk.com blogspot for Dena Johnson of Dena's Devos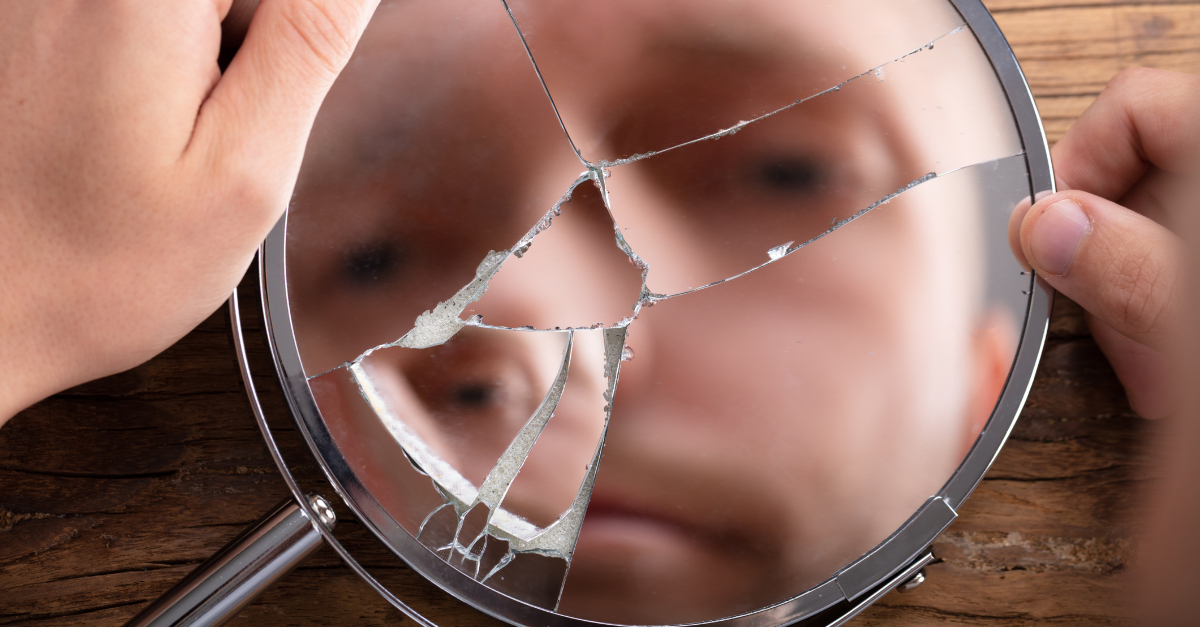 Photo Credit: ©Getty Images/AndreyPopov
Editor's Note: Dena Johnson recently ran this follow-up piece to this article after being contacted by Perry Noble's publicist.
I am troubled.
Actually, I am deeply disturbed.
It seems I am confronted almost weekly with stories of pastors who have fallen to some type of moral failure. Maybe it's adultery. Maybe it's addiction. Maybe it's abuse. But it seems to be of epidemic proportion.
But do you know what might bother me even more than the moral failures of pastors? It's the number of people and churches who allow these same men back into the pulpit without any evidence of repentance.
I am going to use Perry Noble as an example. Let me make it clear that I do not know Noble. I have never met him. The only thing I know is what I have heard from him, from his former church New Spring. I am simply using Noble as an example to prove my point.
I used to faithfully listen to Noble. New Spring Church was on my podcast subscriptions, and I enjoyed listening to his weekly sermons. As time went by, however, some things began to bother me. He talked about his difficult childhood, his struggle with pornography, and the loss of his mother as a child. It was heart-breaking…and yet so powerful to see a man who had overcome so much through the work of God in His life. But I began to notice some common themes in his sermons.
A theme of it's ok if I drink a little here and there.
A theme of it's ok if my language is slightly colorful at times.
A theme of it's ok that I struggle with anxiety and depression.
And here's the thing: It IS ok to struggle. But I didn't sense Noble's sharing of his own personal struggles as an attempt to connect with others on the human experience. Instead, I sensed Noble defending his right to be part of this world, to indulge in sin rather than striving for holiness. And it was a sense that I was very familiar with from my own marriage to a pastor who failed morally.
In July, 2016, Noble was removed from his position with New Spring Church in Anderson, SC, because of an issue with alcohol and neglect of his family. Over the last four years, Noble and his wife of 17 years divorced.
And, in the past few years, Noble has started a new church and returned to the pastorate.
This last week, I began to look a little deeper into the situation with Noble. There seems to be a lot of back and forth between him and New Spring, him accusing the church of trying to destroy him and New Spring defending their refusal to allow him back into their pulpit.
One comment from Noble about the "attacks" from New Spring mentioned the church's actions as an attack on his "livelihood." That really didn't set well with me. I believe wholeheartedly that ministers should be paid—it says so in Scripture (1 Timothy 5:17-18). However, I would hope that as ministers of the gospel, we never see preaching simply as our livelihood. It must first be our passion to share the good things the Father has done in us and for us. My Father is my livelihood, my Provider, my source of income on this earth, and I will share His goodness until my dying breath regardless of whether I am paid for sharing.
Here's the thing: I have absolutely no problem with Noble returning to the pastorate if he has truly repented and experienced the life-changing power of the Holy Spirit. But, are we as Christians truly looking for the signs of repentance, or are we falling for a charismatic individual who is a gifted speaker? I fear we often fall into the latter category.
For those of you who are wondering about the essential elements of repentance, here are a few things to look for:
A repentant individual will…
Acknowledge sin. If a pastor (or any individual) has fallen to sin, he/she must acknowledge his/her actions and call it what it is: sin. There will be a sense of remorse—not a tendency to blame others or deflect responsibility for his/her actions.
Here's a personal example: shortly after our divorce, my ex-husband went to another church. The story I eventually heard from a denominational leader was that I just woke up one morning and didn't love him anymore. He conveniently left out his three years of adultery, his online dating profile, and his pornography issue. This line of reasoning seemed to be a common theme from the multiple churches he pastored between our divorce and his death.
A truly repentant individual will be so devastated over his/her failures that there will be a desire to take responsibility. They will have a Psalm 51 mentality that is broken over the pain inflicted on God and others. They will readily acknowledge their sins and desire to never go down that road again.
Accept accountability. The one who is truly broken over his/her failures will open himself/herself to accountability. They will allow relationships that probe deeply into their personal space, people who truly desire to help them live a life of holiness. Nothing will be off limits to these people. Phones. Electronics. Every keystroke will be recorded for monitoring if something suspicious arises. And the individual's family? If a spouse or even child has concerns about the individual's actions, they will be able to freely turn to the accountability group/individual for a deeper look.
My ex-husband initially reached out to another pastor who also had an affair. Initially, it was a great relationship, one that my ex-husband spoke very highly of. But, when this man mentioned that my ex-husband needed to return to our church and offer an apology for his actions? The mere mention of making things right led my ex-husband to end the relationship.
Submit to discipline. True repentance recognizes that discipline is an essential element of recovery. And so is making things right with those who have been hurt by the moral failures.
When an individual who has had a moral failure just wants everything to return to the way they were—with no consequences for his/her actions—there's a good chance there's been no true life change. My ex-husband wanted me to simply trust him again despite his affairs. He didn't want me to question his whereabouts or look at his phone records. He expected me to simply go back to my blind trust in spite of the pain he had caused me. This type of behavior is a huge red flag.
Support his/her family. Scripture teaches that those who fail to care for their families are worse than unbelievers (1 Timothy 5:8). When a pastor (or anyone) is truly repentant, he/she will make family a priority—even if the family has been fractured by divorce.
What does this look like? A repentant man will go above and beyond the minimum ordered by the state to support his family. He will make sure his ex-wife and children have their needs met before his own. He will ensure they are safe and provided for and protected. There will be no arguing about financial support but instead he will have a generous spirit towards his family.
I know so many single moms who struggle to survive financially while their ex-husbands are off taking vacations and living large. Why? Because there is no repentance. Because what's his is his and she/the kids don't get any of "his" money. It's a sad existence for so many single moms and their kids.
If you are looking for a church or your church is looking for a pastor, make sure you do your research. Ask members of former churches about any character issues they have observed. If he is divorced, make sure you get both sides of the story. Look into open records such as divorce decrees (my divorce decree clearly states my divorce was granted on the basis of adultery). If he/she has been out of ministry, find out why. If he has had a moral failure, dig deep into the above situations. Does he acknowledge his sin? Does he have accountability in his life (true accountability not just friends who say what he wants to hear)? Has he submitted to discipline and allowed adequate time for healing before returning to the ministry? Is he caring for his family above and beyond the minimum required by law? If not, think twice before allowing him to be you pastor. He just might be using his own charisma rather than the power of the Holy Spirit.
Top 30 Bible Verses to Relieve Your Stress
Sarah E Martin
iBelieve Editor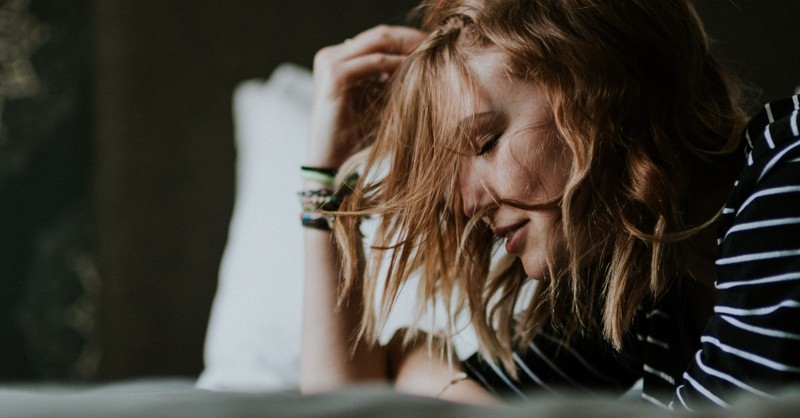 Our hearts were made for worship and wonder, but with what most of us face in our every day—whether you're a parent with a house to manage, a student with deadlines, or a professional trying to perform your best in a time of uncertainty—we're faced with countless causes for anxiety and stress.
We all know it well: your chest feels tight, your breathing shallow, your mind stuck on loops of worst case scenarios, and you just can't find it in you to focus on a task, or make the simplest decisions, much less rest in the knowledge that you're a child of the living God.
It's no wonder, given that our world prefers to power forward, whether we're ready or not, determined to squeeze the most out of what we have to give. Yet our good and loving Creator made us to live as trees planted by water, sending our roots deep into His life-giving stream, and growing tall and strong in the confidence of His provision and nourishment.
No wonder we often feel thinned and scraped dry. The world expects us to burn bright and burn fast. But according to the Bible, God's vision for his sons and daughters is like that of an evergreen tree. The growth is slow, and sometimes not much is seen to be happening. But with time and light and love, we might be able to withstand whatever storms blow our way.
Let's take a look at what these Bible verses can tell us about stress, and how we can faithfully manage it. Turning to prayer and Scriptures to ease anxiety and worry can help you remember that God has not left you, He is with you and for you.
30 Bible Verses to Relieve Your Stress and Anxiety
Thanks be to God, Christ is beckoning and inviting us to lay our burdens at his feet. We were never meant to carry everything on our own. He has provided us with ways to approach and manage the stress in our lives by teaching us to abide, shift our perspective, turn our hearts to wonder and worship, rest and care for ourselves and others, and to tell him about our troubles through prayer and petition, imploring him to act on our behalf.
Photo Credit: © Unsplash/Finn Hackshaw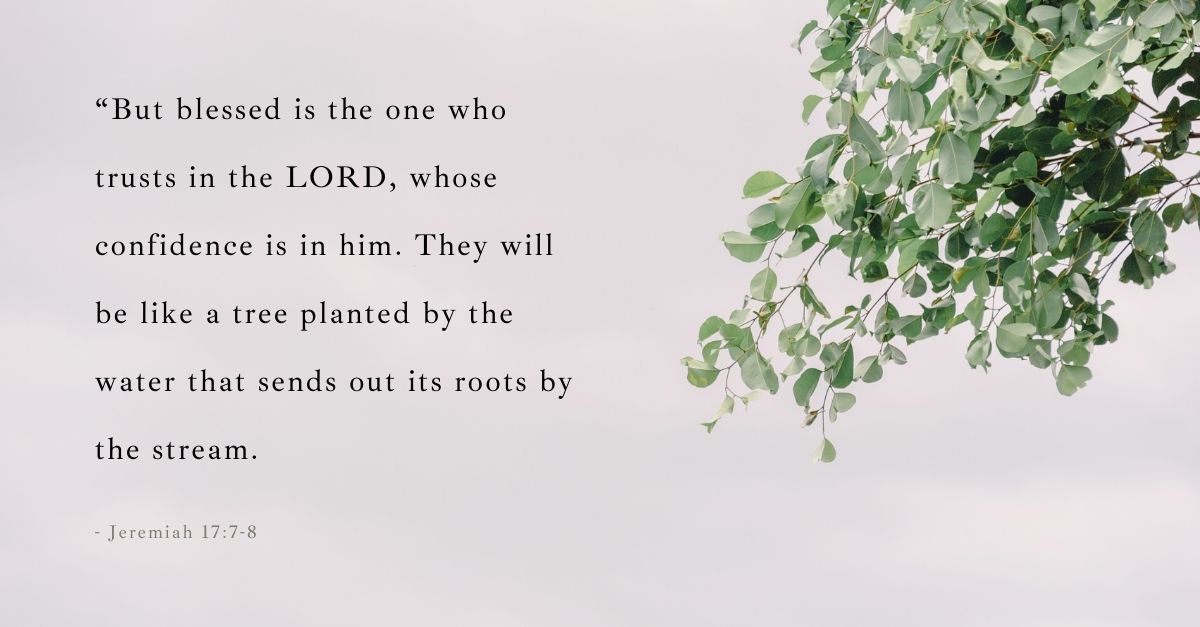 Bible Verse for Abiding
Jeremiah 17:7-8 – "But blessed is the one who trusts in the LORD, whose confidence is in him. They will be like a tree planted by the water that sends out its roots by the stream. It does not fear when heat comes; its leaves are always green. It has no worries in a year of drought and never fails to bear fruit."
You were made to abide, to drink deeply from the ever-flowing life that comes from God. Trust in him and stay close to him, and you will stand strong through drought and storm.
Philippians 4:6-7 – Do not be anxious about anything, but in every situation, by prayer and petition, with thanksgiving, present your requests to God. And the peace of God, which transcends all understanding, will guard your hearts and your minds in Christ Jesus.
Can it be true that we should be anxious for nothing? This command for Christians turns the world's logic on its head. Bring your burdens to God and see what He does.
Romans 12:2 – "Do not conform to the pattern of this world, but be transformed by the renewing of your mind. Then you will be able to test and approve what God's will is—his good, pleasing and perfect will."
The pattern of the world is to be shaped and defined by circumstances. But God invites his people to be shaped deeply by the knowledge of Christ's character, renewed day by day so that we might produce good fruit in and out of season, no matter our circumstances.
John 14:27 – Peace I leave with you; my peace I give you. I do not give to you as the world gives. Do not let your hearts be troubled and do not be afraid.
Jesus' peace is unlike any peace the world has to offer. Greater than financial security, relational affirmation, or even a pandemic-free world. Christ's peace, his gift to you, surpasses all of this—he doesn't want your heart to be troubled.
Design Credit: © SWN/Sarah Martin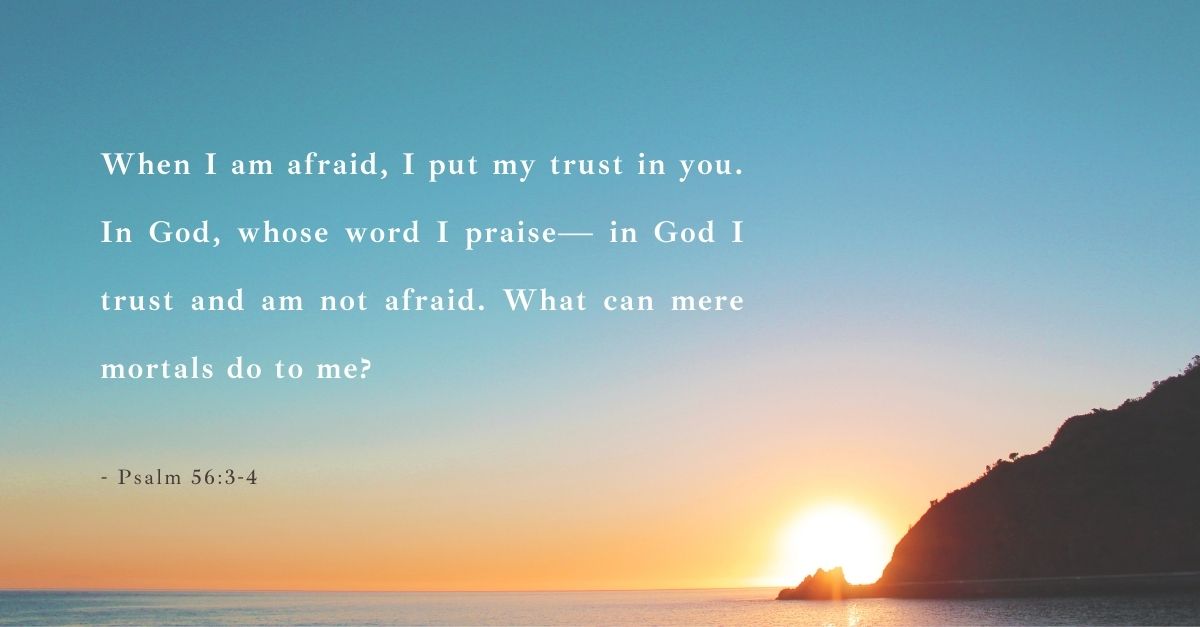 Psalm 56:3-4 – When I am afraid, I put my trust in you. In God, whose word I praise— in God I trust and am not afraid. What can mere mortals do to me?
Often worries and stress become overwhelming to us because the things of the world have stolen our gaze. What we spend our time looking at and contemplating shapes us. Fix your eyes on God, and he will strengthen your heart.
1 Corinthians 3:11 – For no one can lay any foundation other than the one already laid, which is Jesus Christ.
There is no stronger foundation than Jesus Christ. Anything you build upon this rock will last. What are you building with your life, and what are you looking to for your foundation?
Luke 21:19 – Stand firm, and you will win life.
God has greater plans for you than to simply tread water. Abide in him, standing firm in him, and discover life itself.
Psalm 55:22 – Cast your cares on the LORD and he will sustain you; he will never let the righteous be shaken.
God provides us with the recipe for a sustained life: open your hands and let your cares and worries fall upon him. Cast them at his feet. With his life sustaining you, you will not be shaken.
Design Credit: © SWN/Sarah Martin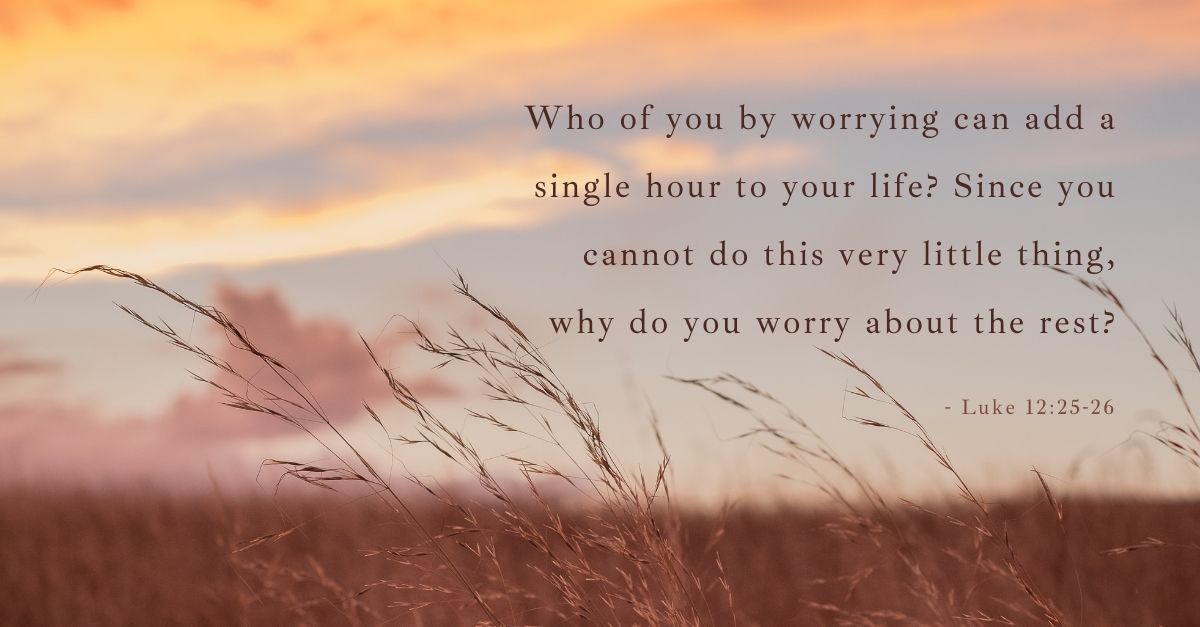 Luke 12:25-26 – Who of you by worrying can add a single hour to your life? Since you cannot do this very little thing, why do you worry about the rest?
Stress-induced worry doesn't do anything to help your life. Remember who's really in control.
James 1:2-4 – Consider it pure joy, my brothers and sisters, whenever you face trials of many kinds, because you know that the testing of your faith produces perseverance. Let perseverance finish its work so that you may be mature and complete, not lacking anything.
Early Christians realized that trials and challenges were a cause for joy, because they are building something more enduring and strong within us, forging a faith that will last. Could you dare to see your cause for stress as a cause for worship? For Christ is with you in it, making your faith and trust in him complete.
Romans 8:6 – The mind governed by the flesh is death, but the mind governed by the Spirit is life and peace.
The world might tell you that all you need is a new and positive mindset. While positivity tips and tricks might be helpful for a moment, they don't build a deep foundation of the true life and peace found in God. Allow His Spirit to govern your mind, and notice how he leads you to something eternal, not fading or contrived.
Luke 21:34 – "Be careful, or your hearts will be weighed down with carousing, drunkenness and the anxieties of life, and that day will close on you suddenly like a trap.
2 Corinthians 4:7-9 – But we have this treasure in jars of clay to show that this all-surpassing power is from God and not from us. We are hard pressed on every side, but not crushed; perplexed, but not in despair; persecuted, but not abandoned; struck down, but not destroyed.
To live as a Christian in the world is to live hard-pressed, crushed, perplexed, and sometimes stuck down. But this verse shows us why we aren't destroyed or driven to despair. Because of the treasure God chose to place in these imperfect bodies. A spirit of impossible love and overwhelming victory lives inside us. No stress or anxiety can stand in the presence of such a treasure.
Psalm 119:143 – Trouble and distress have come upon me, but your commands give me delight.
The next time trouble and distress overwhelm you, what commands of God can you find delight in?
Design Credit: © SWN/Sarah Martin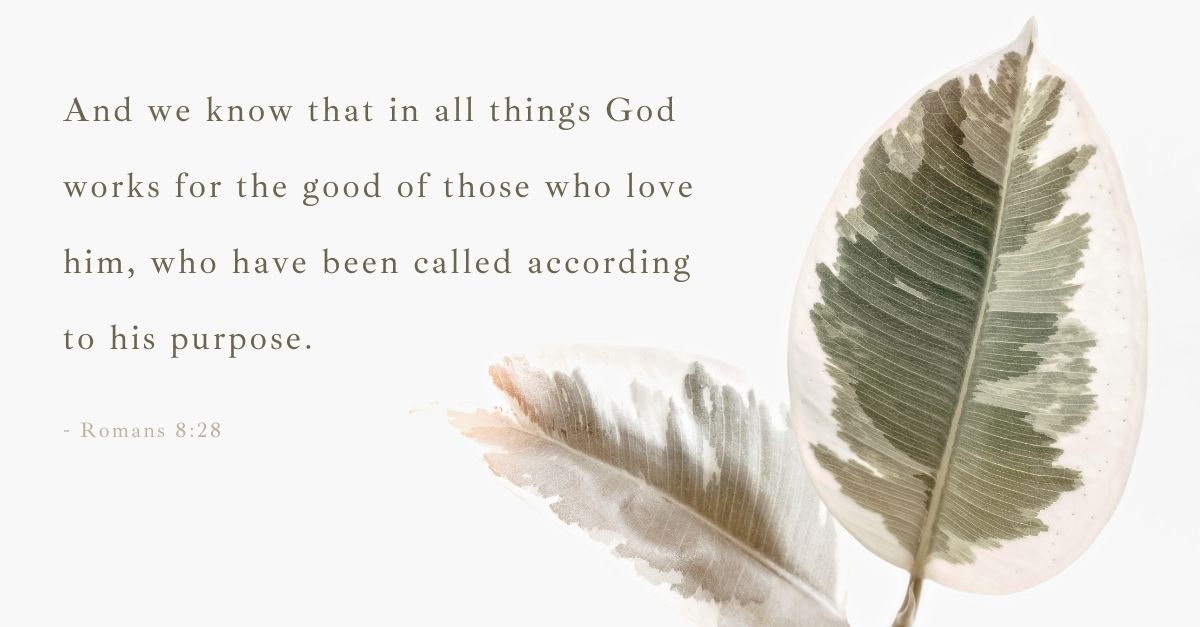 Bible Verses for Worshiping Instead of Worrying
Romans 8:28 – And we know that in all things God works for the good of those who love him, who have been called according to his purpose.
God is for you! He is working for you! Don't waste a moment believing otherwise. He doesn't need you to prove yourself to him. His love for you moves you forward. Feel permission to loosen your grip and need for control. He has you.
Romans 16:20 – The God of peace will soon crush Satan under your feet. The grace of our Lord Jesus be with you.
Praise God, stress and anxiety and causes for worry will one day become as small and insignificant as the enemy Christ destroyed by his sacrifice of love. Praise him for his victory, and your freedom from worry and fear!
Psalm 94:19 – When anxiety was great within me, your consolation brought me joy.
The comfort and consolation of our God can turn our most stressful moments into joy and gladness. What cause for stress is God asking you to turn over to him?
Design Credit: © SWN/Sarah Martin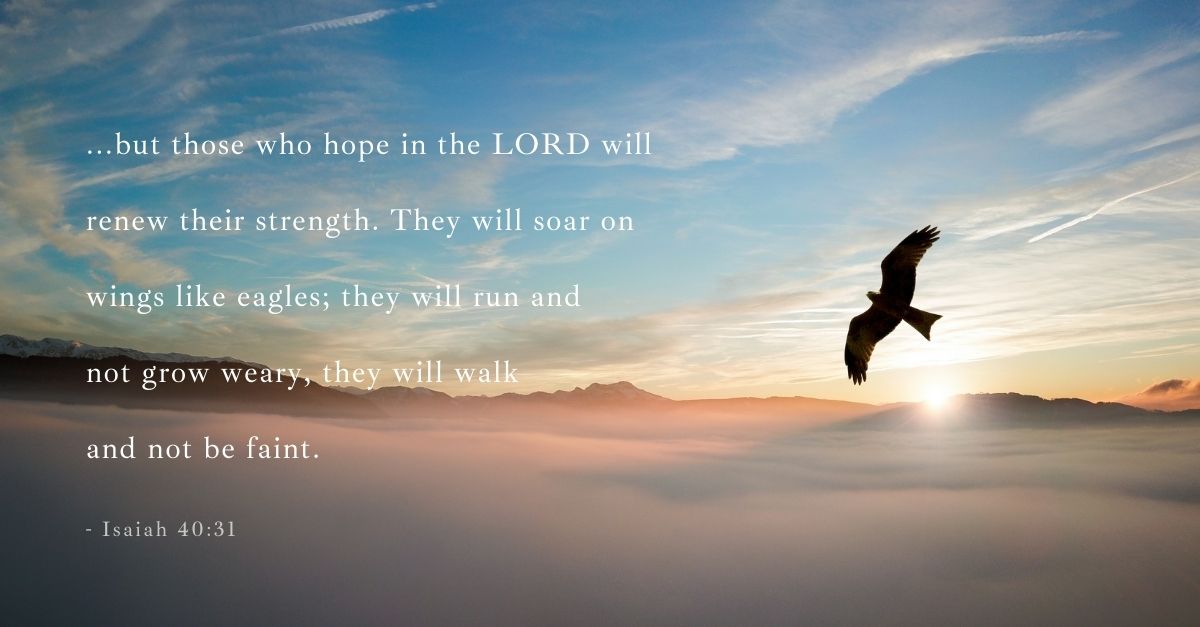 Bible Verses for Rest Instead of Stress
Isaiah 40:31 – but those who hope in the LORD will renew their strength. They will soar on wings like eagles; they will run and not grow weary, they will walk and not be faint.
We have a long race to run. Praise be to God, in him our strength is renewed, and we can rise day after day to face another mile. God made you to fly, so turn to him today to equip you with wings.
Psalm 118:5-6 – When hard pressed, I cried to the LORD; he brought me into a spacious place
The Lord is listening, waiting for you to cry out to him from the stressful place you find yourself in. He will bring you to fresh air and wide open spaces. No one can box you in when he's around.
Matthew 11:28-30 – "Come to me, all you who are weary and burdened, and I will give you rest. Take my yoke upon you and learn from me, for I am gentle and humble in heart, and you will find rest for your souls. For my yoke is easy and my burden is light."
Resist picking up any yoke that God did not give you himself. In the upside down Kingdom of God, his "burden" will lead you to rest, and to draw nearer to his gentle and humble heart for sinners.
Design Credit: © SWN/Sarah Martin
Bible Verses for Prayer & Petition
Proverbs 16:3 – Commit to the LORD whatever you do, and he will establish your plans.
God invites us to partner our lives with him. Bring your plans and hopes and dreams to his feet, for your heart matters to him. He wants to lead you in the way you will go.

Psalm 37:5 – Commit your way to the LORD; trust in him and he will do this:
Are you trying to go your way on your own, or have you considered how God may want to guide you and encourage you along your path? Commit your journey into his hands.
Philippians 4:6-7 – Do not be anxious about anything, but in every situation, by prayer and petition, with thanksgiving, present your requests to God. And the peace of God, which transcends all understanding, will guard your hearts and your minds in Christ Jesus.
God doesn't want us to waste a moment of our lives bearing burdens on our own. Tell him what's bothering you, what's on your mind, what desires are in your heart. There is nothing too trivial to bring to him, if it means your heart might be free from worry and stress.
Hebrews 4:16 – Let us then approach God's throne of grace with confidence, so that we may receive mercy and find grace to help us in our time of need.
We all need grace and mercy as we try to balance the moving pieces of life. Draw near to God's throne with confidence, for his mercy is endless, and his grace is overflowing.
Psalm 102:17 – He will respond to the prayer of the destitute; he will not despise their plea.
God's heart is for you, and he delights in inclining his ear toward you to listen to your pleas. He won't get tired of hearing your needs. Lift up your voice to him.
Design Credit: © SWN/Sarah Martin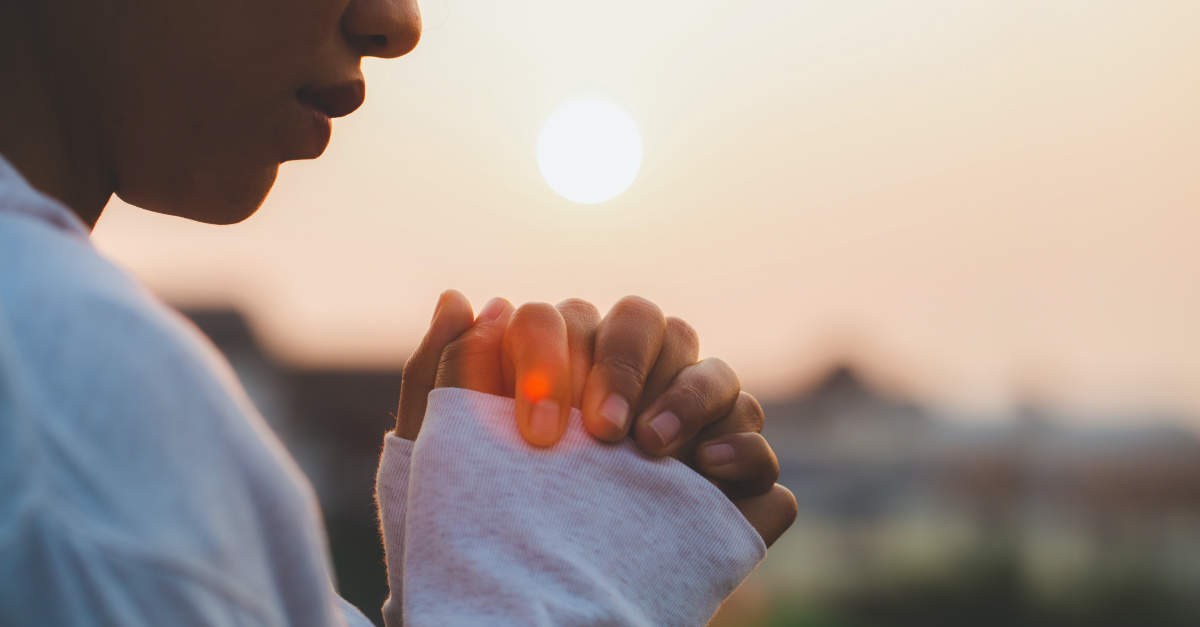 A Prayer to Relieve Stress
Dear Father,
We humbly come before you, stretched and strained, trying with all our might to unclench our teeth, relax our shoulders, let go of the many things creating tension in ourselves and with others throughout our day to day.
But the truth is, you call us to come to you, not out of our own might and struggles, but out of your loving invitation to lay our burdens at your feet, and lean in to rest in the arms of Jesus. Because of your son, because of who you show yourself to be, we can know and believe that we are made whole and complete.
Through the indescribably power of Jesus' death and resurrection, we no longer have to worry whether we are enough to face life's challenges both big and small. Not only can we release our stress and worry to you, we can hope and rejoice that you make us victorious!
All the same, some days it's hard for us in our humanness to remember the greatness of your power and victory over our infirmities. Because of this we pray for your loving grace and comforting hand to still our fast-beating hearts when we fail, or our circumstances fall apart. When disappointments or complications threaten our peace, we ask for your peace-giving presence to bring us back to that sweet spot of love and trust that only come from you, so that we might go forward in worship and singing instead of fear and defensiveness.
Thank you for your heart for us, God.
In Your Name,
Amen
Photo Credit: © Getty Images/Tinnakorn Jorruang
Sarah Martin is the editor for iBelieve. She has previously enjoyed editing and writing for her alma mater, Christopher Newport University's newspaper, and for various ministry organizations. She has a B.A. degree in English and Writing and enjoys a good dive into British literature along with a strong cup of black tea.
waiting… and waiting
Precious blessings can come even as we wait.— Jack Countryman, God's Blessings Just for You
Waiting… and Waiting
by Jack Countryman, from God's Blessings Just for You
Waiting. No one likes it. We don't want to wait in a long line at Costco or wait for God to send the spouse we're praying for. It's hard to wait to hear from the school we want to attend or the company we want to work for. It's tough to wait for lab results — and for labor pains to start after a long thirty-eight weeks. We don't like to wait: we want what we want, and we want it right now.
The fact is, either we are unaware or we are ignoring the fact that waiting is God's training ground for strengthening our faith. As we wait, we learn to trust God more. We may not understand the circumstances of our life or why we have to wait, but we can remind ourselves that God, our heavenly Father, is in control and that His plans for us are plans for good (Jeremiah 29:11).
Also, during a season of waiting, we can practice listening for the Lord and resting in His presence. Precious blessings can come even as we wait.
The Revelation of Jesus Christ, which God gave Him to show His servants — things which must shortly take place. And He sent and signified it by His angel to His servant John, who bore witness to the word of God, and to the testimony of Jesus Christ, to all things that he saw. Blessed is he who reads and those who hear the words of this prophecy, and keep those things which are written in it; for the time is near. — Revelation 1:1-3
Praying Scripture
God speaks to us through the Bible. That's why slowing down both to meditate on what we read and to pray to God the words He Himself has given us will help us know Him better and more easily recognize His voice.
Also, did you notice that David reminded God of His promised "goodness to Your servant"? David understood that by praying according to God's promises, he aligned himself with God's will. We can do the same today:
we can pray God's promises back to God.
Fervently and fruitfully, David also pursued the godly endeavor of meditating on God's Word. He wrote many of the psalms we cherish today after quietly waiting on the Lord and listening for His voice until he heard it.
In our overscheduled lives, we find it difficult to slow down, read a Bible passage, and listen for what God may be saying to us. With so many responsibilities, commitments, and people clamoring for attention, who can make time for prayer and meditation? You and I can — and I hope we will.
The Lord is great and greatly to be praised; He is to be feared above all gods. For all the gods of the peoples are idols, But the Lord made the heavens. Honor and majesty are before Him; Strength and beauty are in His sanctuary. — Psalm 96:4-6
Excerpted with permission from God's Blessings Just for You by Jack Countryman, copyright Jack Countryman.
. . . .
Your Turn
In your waiting, God is in control. He is good and He has good plans for you! In the meantime, let's listen to what He is saying, and learn God's Word and pray it back to Him. Come share your thoughts with on in the comments. We want to hear from you! ~ Devotionals Daily
Daily Devotion
The Tongue
"Don't have anything to do with foolish and stupid arguments, because you know they produce quarrels." – 2 Timothy 2: 23
Dear Lord, " May these words of my mouth and this meditation of my heart be pleasing in your sight, Lord, my Rock and my Redeemer, Amen